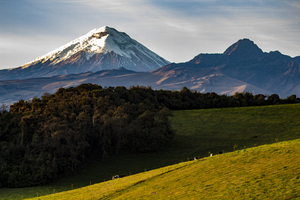 Dawn Sierra los Alisos - Raúl Guarderas
Sierra Alisos Andean Montane Forest
Paola Moscoso, Voces del Bosque
Latitude: -0.40179004285570175°
Longitude: -78.576029676712°
This year we are going to broadcast from one of the last remnants of native Andean montane forest in Tambillo: the beautiful Montane Sierra Alisos reserve.


In addition, to this natural concert, some special guests will join at 6.30 am ECT: Jorge and Santiago Farinango from @jofa_arteceramico and Elemental Sonoro @elementsonoro respectively, artisans from an small Andean city (Ibarra) who dedicate their time to investigate and replicate the different types of acoustic systems that our native people made, with the intention of preserve the memory of ancestral sounds. 💛⁠


The Sierra Alisos reserve is a remnant of Andean montane forest; a type of ecosystem that previously dominated many plains and montane areas of the Ecuadorian Andes. This area is located between altitudes between 890 and 3160 m. Has primary and secondary forest with unique characteristics, which creates a microclimate on its surroundings.There are around 220 bird species in the reserve and nearby areas, such as gralarias, woodpeckers, owls, sinalaxias, curiquingués, among others. It is also possible to hear the near threatened Riobamba marsupial frog, crickets and who knows ...perhaps the biggest active volcano of the Earth (Cotopaxi) exploding in the background.