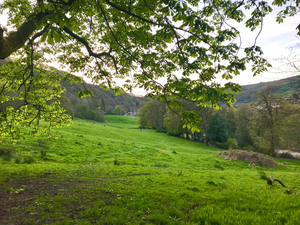 Centre Vale Park, Todmorden, West Yorkshire
Calderdale Sound Network
Latitude: +53.71798186280105°
Longitude: -2.106562954749285°
We are in Centre Vale Park, Todmorden, Yorkshire. It's a lovely big town park with recreational fields, ornamental gardens, grassy slopes that are left to become meadow-like over summer, scrubby patches, and mature semi-natural woodland. This stream is being run by Calderdale Sound Network following an ecological radio workshop held with Soundcamp in March this year. We are using one of the stream boxes made at the workshop.
A 2018 biodiversity survey in the park identified up to 50 species of bird were using the space one way or another, whether that be for nesting in, feeding in, or roosting in trees and bushes.

Trees include lime, oak, beech, willow, horse chestnut, sycamore, Scots pine and other conifers. Within the woodland there are streams and small areas of marsh. In addition "..mini ecosystems have developed in old drinking troughs that were once used by the farms"