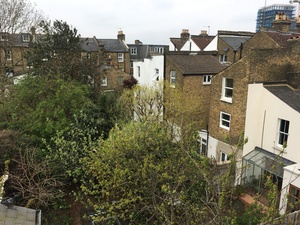 Loughborough Junction, South London
Grant Smith et al
Latitude: +51.46422378027867°
Longitude: -0.09829403866365993°
Everyday sounds from a back yard in South London. A small patch of trees and vegetation surrounded by gardens, buildings, roads, train tracks, not far from the centre of the city.
Ad hoc rewilding project on an accidental patch of land left over between developments, tacked on the back of the last house in a terrace. 'Unresolved patch of the planetary garden' (3rd landscape - Gilles Clément). Experimental field of the acoustic commons.

Sounds from hens, nearby schoolyard at recess, the Cambria pub, adjoining houses and back yards. Traffic. Planes on the approach to Heathrow International airport. Wrens, woodpigeons, goldfinches, blackbirds, crows, magpies, starlings, other birds, especially in Spring. Bees. Squirrels. Sirens. Helicopters. Domestic sounds.

Long term live stream on the Locus Sonus open microphone network, mainly continuous since September 2011 with a series of devices developed in collaboration with Locus Sonus and SoundCamp with input from Udo Noll at Radio Aporee and Max Baraitser Smith, using the open source streaming software Darkice by Ákos Maróy, Rafael Diniz and others.

Rasp pi with Focusrite 2i2 2nd Gen soundcard over PoE. Microphones based on the Primo EM-172 capsule (thanks to Zach Poff and others, with the Simple P48 mod shared by Tom Benedict).