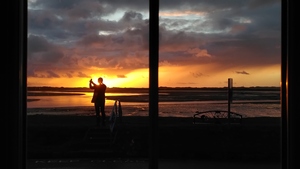 Ravenglass Estuary
RL Wilson
Latitude: +54.355499°
Longitude: -3.41063°
The Ravenglass estuary lays host to many sounds of birds, wildlife, and steam trains; including the recently introduced little egret, the rare and protected natterjack toad, and the common and overabundant tourist.

Stream box built by RL Wilson and Full of Noises
The low-laying fells leading to the coast of Cumbria hold a unique setting for both wildlife and soundscapes.



The Ravenglass estuary is an acoustically diverse and transformative area, equally remote yet accessible to all, and holding potential for a majestic array of sounds- twenty-four hours a day. Largely sheltered from the Irish sea by sand dunes and with the three rivers of Esk, Irt, and Mite meeting – enabling wildlife, both migratory and land-locked, equal room for manoeuvre.




RL Wilson lives and works in West Cumbria, and is a multidisciplinary artist working with and combining- moving image, sound, performance, and the written word.

Full of Noises are an arts organisation in Barrow in Furness platforming experimental sound and music.