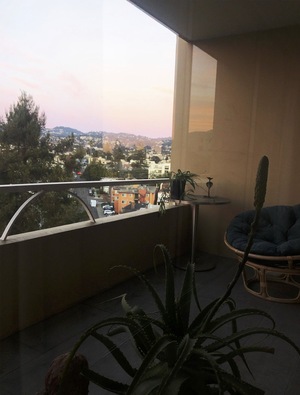 8th Floor, Adams Point, Oakland CA
Charlotte Law
Latitude: +37.811184099754115°
Longitude: -122.25614500772193°
Not far from Lake Merritt and San Fransisco Bay this patch of sky looks out to redwoods, palm trees and the Oakland hills beyond. Day breaks with a rich variety of birdsong.
From here, the sounds of the dawn float above the low drone of the freeway, and are accompanied by periodic signals from trains and boats in the bay, the occasional alarm, early starters and passing planes.

Beside the magical whir of hummingbirds wings, one can hear songs from the birds such as the morning dove, mockingbird, jay, chickadee, warbler, wren, american robin, oak titmouse, sparrow, towhee and finches.