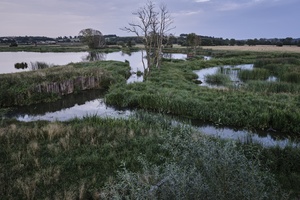 Kozmic meadows
Michal Kindernay & Magdaléna Manderlová
Latitude: +49.90318217446952°
Longitude: +18.137150172416774°
Kozmické louky–Kozmic meadows Kozmic meadows are a system of floodplain meadows situated in the Opava region, northeast of the Czech Republic.
This area was formerly intended for gravel mining and experienced difficult times of amelioration, water drainage, aggressive terrain destructions, and extraction of resources which caused disruption of the natu- ral balance, loss of biodiversity, and environmental burden. Kozmic meadows are now, thanks to the long-term commitment and dedicated work and care of many, full of life, and accommodate hundreds of species of birds and plants, amphibians, Exmoor ponies, and an ornithological observation station.

The project by Magdaléna Manderlová and Michal Kindernay was commissioned by Bludný kámen researches the past, current, and future sonic environments of the region, and draws inspiration from The World Soundscape Project and acoustic ecology. The first part of the project investigated the river Opavice that has had a signif- icant role in the region's history and flows through the region as a poetic spine. Kindernay & Manderlová walked along the river from its spring to its conflu- ence. The exhibition took place in Galerie Cella, Opava, Czech Republic, 20.10 - 09.12.2021. The second part investigates the area of Kozmické louky–Kozmic meadows and was co-commissioned by Radio Art Zone. The exhibition will open 24.08 with a full day of program in public space 27.08, and the 22-hour radio broadcast 21.09.2022.

The third part will happen this summer as one day long symposium and will involve together Czech and international artists and experts.