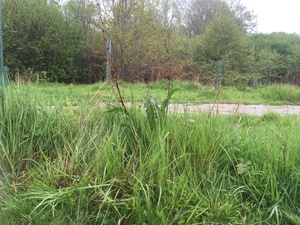 Eden Valley Burial Ground, Kent, UK
Michelle Atherton
Latitude: +51.204859531093824°
Longitude: +0.05045278494770322°
Eden Valley Burial Ground is a natural burial site where people are interred following environmental friendly processes. The site is managed by Amy & Martin House with the aim of eventually returning the 14 acres of grassland back to deciduous woodland. Sounds will include noises from both above and below ground.
As part of this work Michelle will broadcast from Eden Valley Woodland Burial Ground, Kent. The interments offered here follow environmental friendly processes whereby an un-embalmed body is laid to rest in a biodegradable coffin or shroud in a hand dug grave. The site is managed by Amy and Martin House and when someone is buried they, or friends or family plant a tree on each plot, establishing a concentrated network of young trees. This planting happens next to an ancient woodland enabling the new trees to benefit from both the ecological networks above and below ground. Over time the new trees will be assimilated into and extend the reach of the ancient system.
The underground sounds might include clicks of root-munching larvae, rustling worms as they crawl through tunnels, plants roots moving past soil, beetles talking to each other. So if we are lucky and it is not too cold or windy it might be possible to hear intermittent slurping, chiffing, gurgling, chirring, thrupping, slow grating, rasping, clicking, scratching, creaking and knocking, very loud knocks. These noises are difficulty to identify to the untrained ear, remaining rather enigmatic. These underground vibrations will mix with above ground frequencies of bird calls and the first early morning trains.