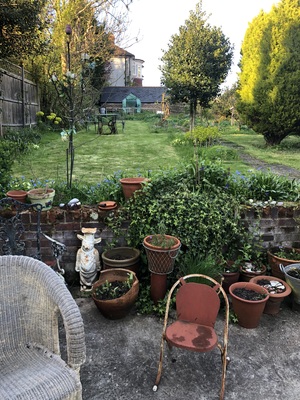 eden dawn recording for Reveil 2023 - Mary Hooper
Hastings East Sussex
Mary Hooper
Latitude: +50.86568844593202°
Longitude: +0.570963557488815°
I am sending a live audio stream for the Reveil broadcast from my back garden in Hastings, East Sussex. It is opposite a beautiful park in a suburban setting.


The stream will capture the transition from night to day, and how the sounds of the wildlife and humans interact and build. It will begin with me making tea, going into to the garden to listen to the first sounds of the waking wildlife in the twilight hours, building to a crescendo and then being subsumed by the sounds of human activity. We should still hear however the insect and bird notes above the waves of humans going about their business in cars and buses, and perhaps the occasional dog walkers.
The human activity builds and wanes as the wildlife does, but it is less enchanting as it is machine sound. The birds are very varied, crows, magpies, robins, blue tits, an owl if we are lucky, seagulls, sparrows, wrens, and more. We let the garden have wild patches and we see several species of bees, wasps, hover flies, butterflies, frogs, moths and many small insects, slugs and snails of course.
The house was built in 1908 and has a long garden. It was until 1940 a quiet road with fields, woodland surrounding it and natural springs running through it. Now all around us is densely developed and the road in front of the house has become the main traffic route into Hastings, due to poor town planning decisions, carrying giant delivery trucks and a constant stream of traffic to and fro. As a consquence the houses are shaken to their foundations and the roads and services beneath are constantly in need of repair. Luckily we have an extensive ribbon of public park to alleviate pollution and provide a green lung for the town.
The witching hour of transition from day to night and night to day is a very beautiful experience and it is wonderful to shre it with all my fellow streamers.